Vitamin K Antagonist Pharmacology, Pharmacotherapy and Pharmacogenomics
Faculty & Faculty Disclosure
Mary Jane E. Mattern, PharmD Pharmacist
William W., Backus Hospital
There are no actual or potential conflicts of interest associated with this presentation.
Discuss the basic physiology of coagulation
Discuss the pharmacology of the vitamin K antagonist
Discuss the indications and contraindications for the vitamin K antagonist
Discuss the roles genetics plays in the dosing of warfarin
Discuss the utility of how genetic testing will affect initial dosing of warfarin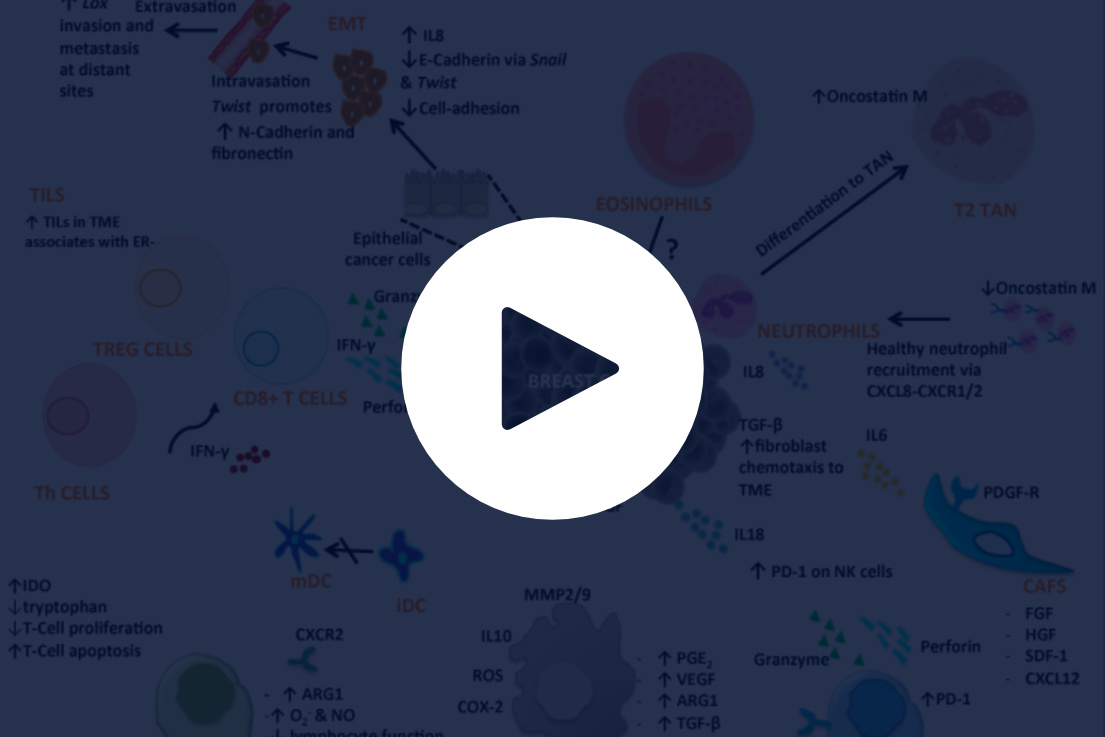 Course Materials & Handouts
Virchow's Triad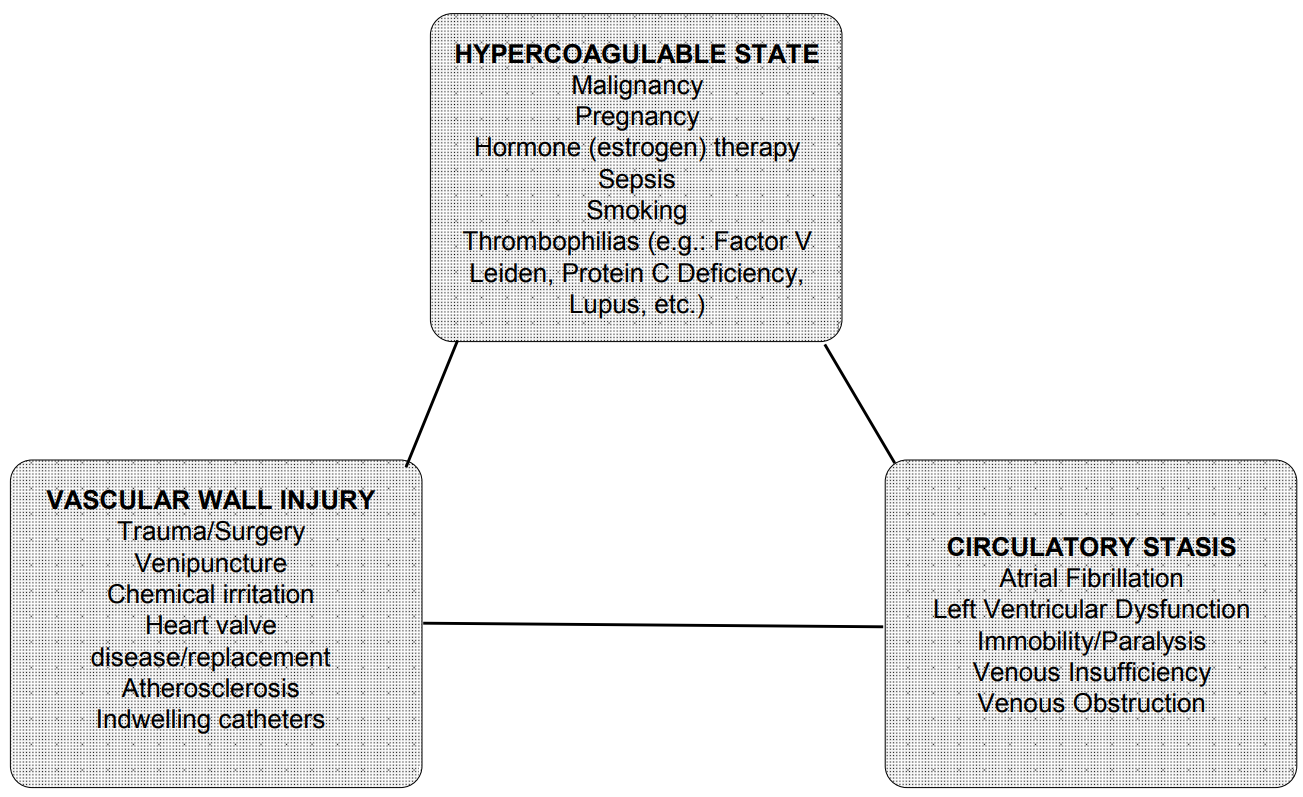 Coagulation Physiology
The process of coagulation is mediated by the presence of tissue factor, negatively charged phospholipid surfaces, and collagen
Under normal conditions, these compounds are not in contact with blood
Endothelial damage, exposure to toxins, and inflammation expose these components to intravascular blood flow
The extrinsic and early intrinsic coagulation pathways begin upon this exposure
Tissue Factor
Injury occurs
Tissue factor (TF) is expressed by damaged endothelium
TF complexes with circulating activated factor VII (VIIa)
The extrinsic pathway of the coagulation cascade is catalyzed
Phospholipid Surfaces
Injury occurs
Endothelial cells expose negatively charged phospholipid surfaces to blood
Activated platelet surfaces also expose negatively charged phospholipid surfaces
Vitamin K dependent clotting factors bind to these surfaces
Collagen
Injury occurs Collagen is exposed
Collagen binds von Willebrand factor (VWF) Platelets bind VWF via glycoprotein Ia
Platelets are activated, secrete adenosine diphosphate (ADP) and thromboxane A2 (TXA2), and aggregate
The Clotting Cascade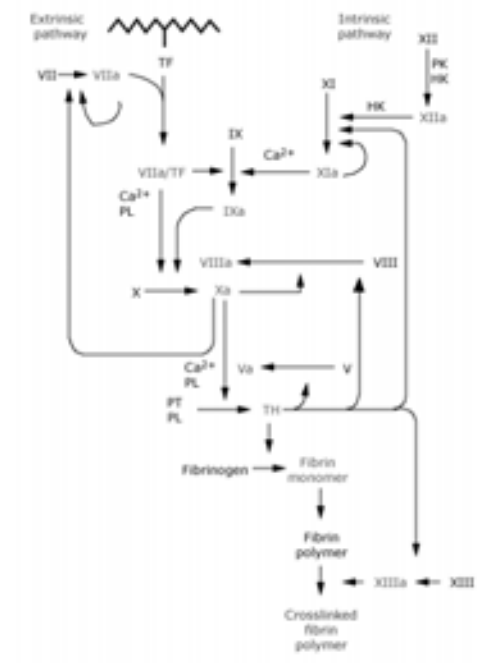 Which of the following is NOT a catalyst for the coagulation cascade?
a) Tissue Factor
b) Plasminogen
c) Collagen
d) Negatively charged phospholipid surfaces
Vitamin K Dependent Clotting Factor Physiology
Clotting factors II, VII, IX, and X and endogenous anticoagulants Protein C and Protein S are synthesized in the liver
Vitamin K Epoxide Reductase (VKOR) enzyme reduces vitamin K in quinone form (vitamin K1) to active vitamin KH2
Vitamin KH2 serves as cofactor for carboxylation of clotting factor precursors-carboxylation of glutamic acid (glu) residues at N-terminal region of clotting factor precursors yield -carboxyglutamic acid (gla) residues
Clotting factors can now complex with negatively charged phospholipid membranes in the presence of calcium
Vitamin K Epoxide Reductase (VKOR)
Vitamin K1 occurs naturally in quinone oxidated state Vitamin K1 must be reduced to hydroquinone form (vitamin KH2) to serve as cofactor for carboxylase
Vitamin K epoxide reductase (VKOR) is the enzyme responsible for conversion from the inactive vitamin K1 quinone to the active vitamin KH2
VKOR also "recycles" vitamin K epoxide (a byproduct of gamma carboxylation) back to active vitamin KH2
Warfarin's mechanism of action targets VKOR
DT-diaphorase
An NAD(P)H dehydrogenase
Reduces quinone form of vitamin K1 to vitamin KH2 Has no effect on vitamin K epoxide
Likely has little role in vitamin K recycling process May have a role in vitamin K reversal of warfarin overdose
The following is true regarding VKOR, except:
a) It converts vitamin K1 to active vitamin KH2
b) It is the target of warfarin's mechanism of action
c) It binds to negatively charged phospholipids in the presence of calcium
d) It recycles vitamin K epoxide to active vitamin KH2
Warfarin Structure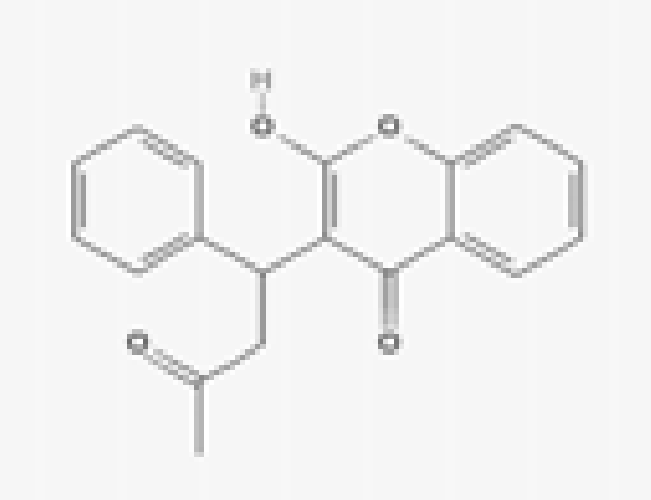 Molecular Formula C19H16O4
4-hydroxycoumarin nucleus
Commercially available as a racemic mixture of optical isomers
R and S enantiomers have similar mechanisms but different kinetic and dynamic properties
Mechanism of Action
Warfarin shares a common ring structure with vitamin K
Warfarin inhibits VKOR = lower yield of hydroquinone
With less active cofactor, carboxylation of vitamin K dependent proteins in hindered
Glu residues on vitamin K dependent proteins are not as easily carboxylated to gla residues
Vitamin K dependent proteins cannot function normally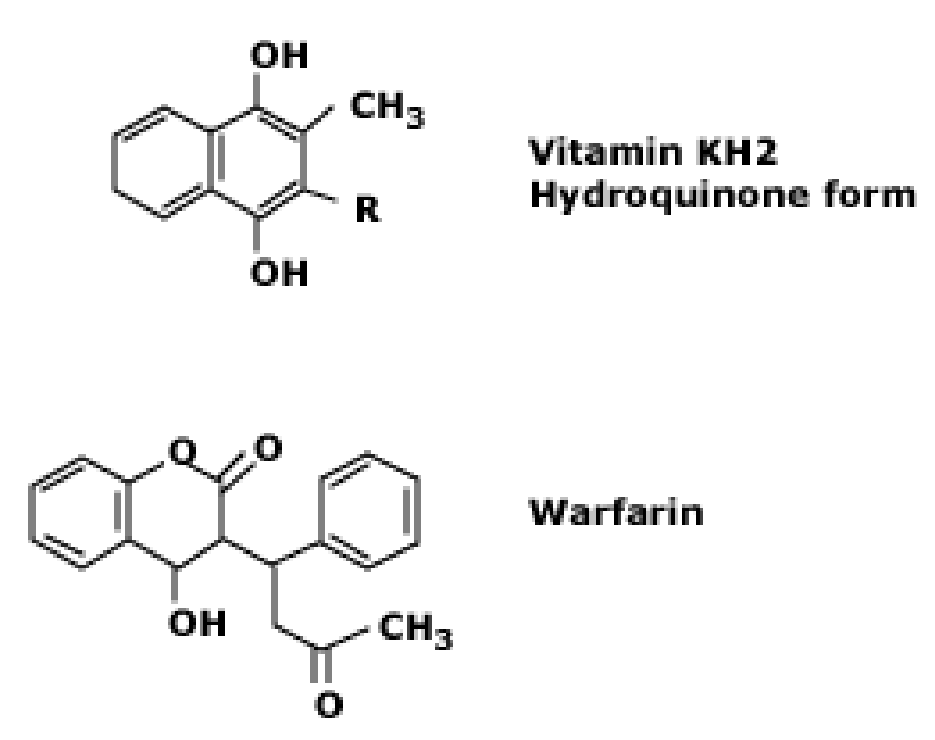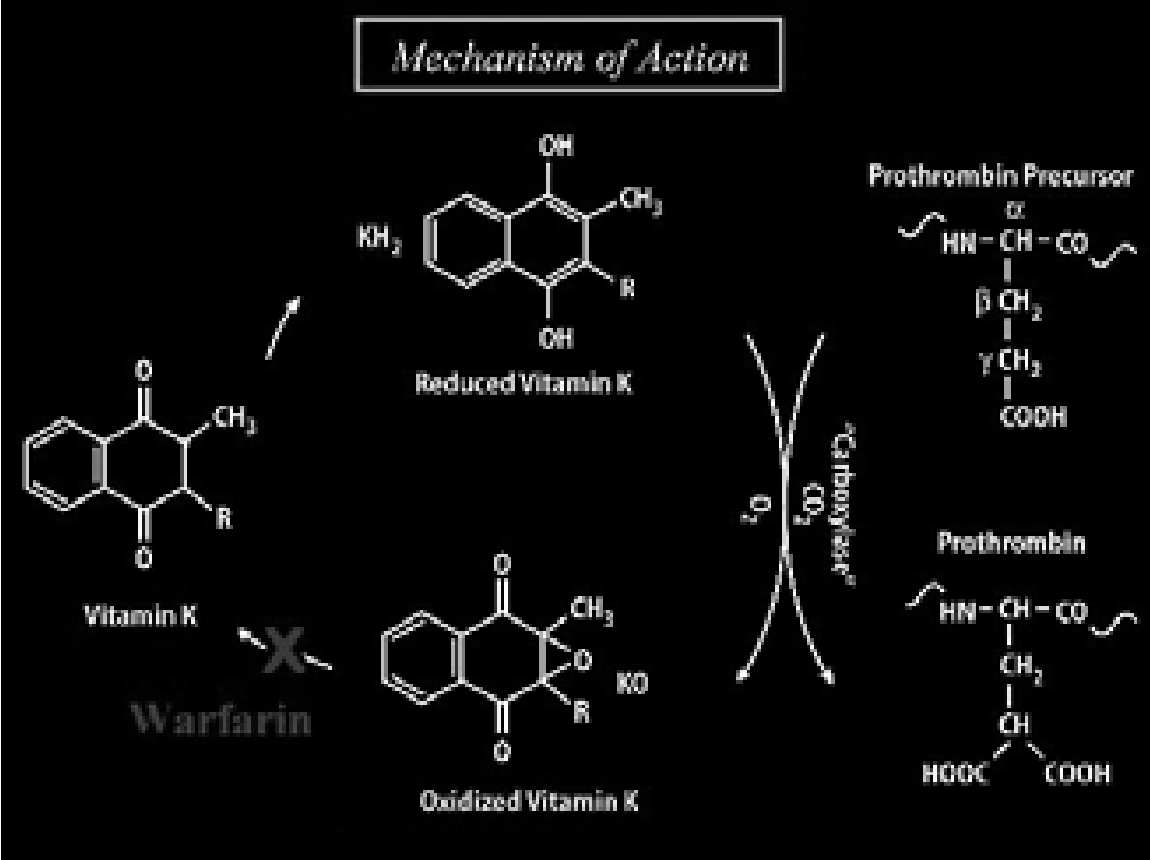 Pharmacokinetics – Absorption
Rapid absorption from GI tract with high bioavailability
Highly water soluble
Food has no effect on absorption
Absorption likely occurs in proximal small bowel
Pharmacokinetics – Distribution
99% protein bound (mainly albumin)
Volume of distribution = 0.11 to 0.2 L/kg
Specific disease states (i.e.: cancer, uremia) and use of other highly albumin bound medications (i.e.: phenytoin, ibuprofen) may affect warfarin binding to proteins and alter free fraction of circulating warfarin
Pharmacokinetics – Metabolism
R and S isomers are metabolized by the liver
S-warfarin is principally metabolized by CYP2C9 enzyme R-warfarin is principally metabolized by CYP3A4 and CYP1A2
enzyme enzymes
Genetic variability in CYP2C9 enzyme may pose additional risk to patients
S-warfarin has 2-5 times the anticoagulant activity of its optical isomer, R-warfarin
Pharmacokinetics – Excretion
Elimination t1/2 = 20-60 hours
S-warfarin =18-43 hours
R-warfarin = 20-89 hours
Excreted as inactive metabolites in bile, then urine
Excreted as inactive metabolites in breast milk (considered compatible with breast feeding with appropriate monitoring)
Lifespan of Vitamin K Dependent Proteins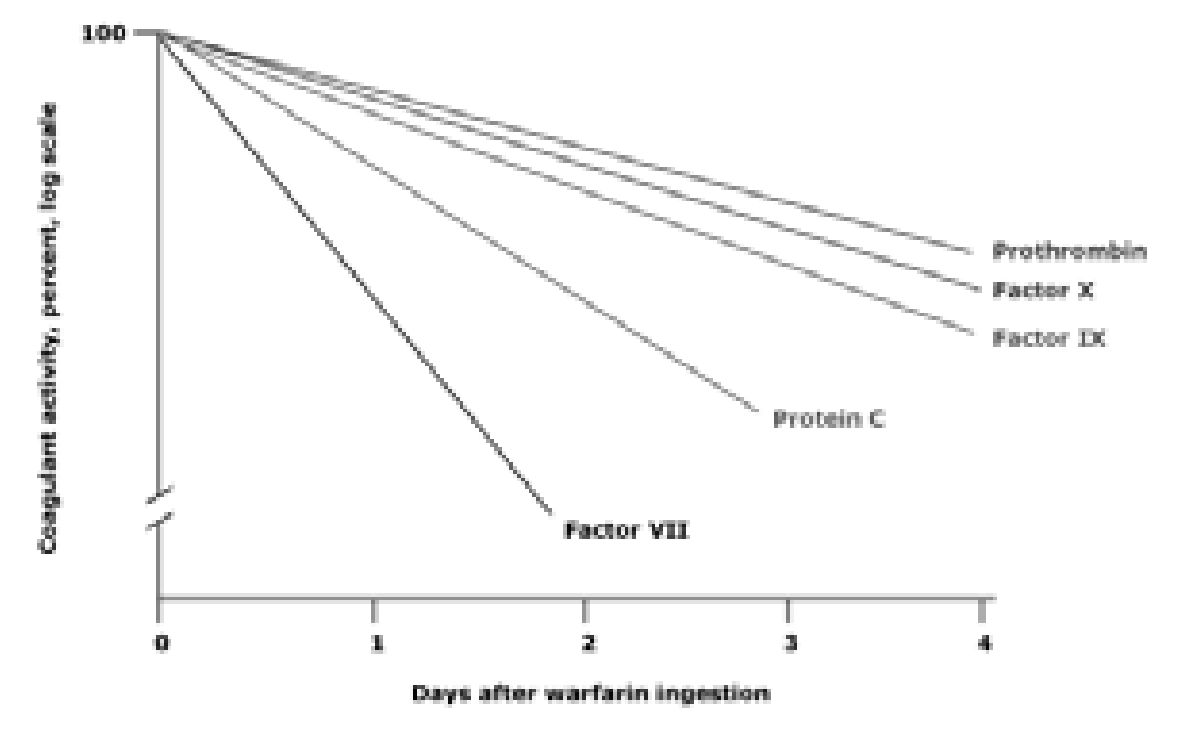 References go in this area.