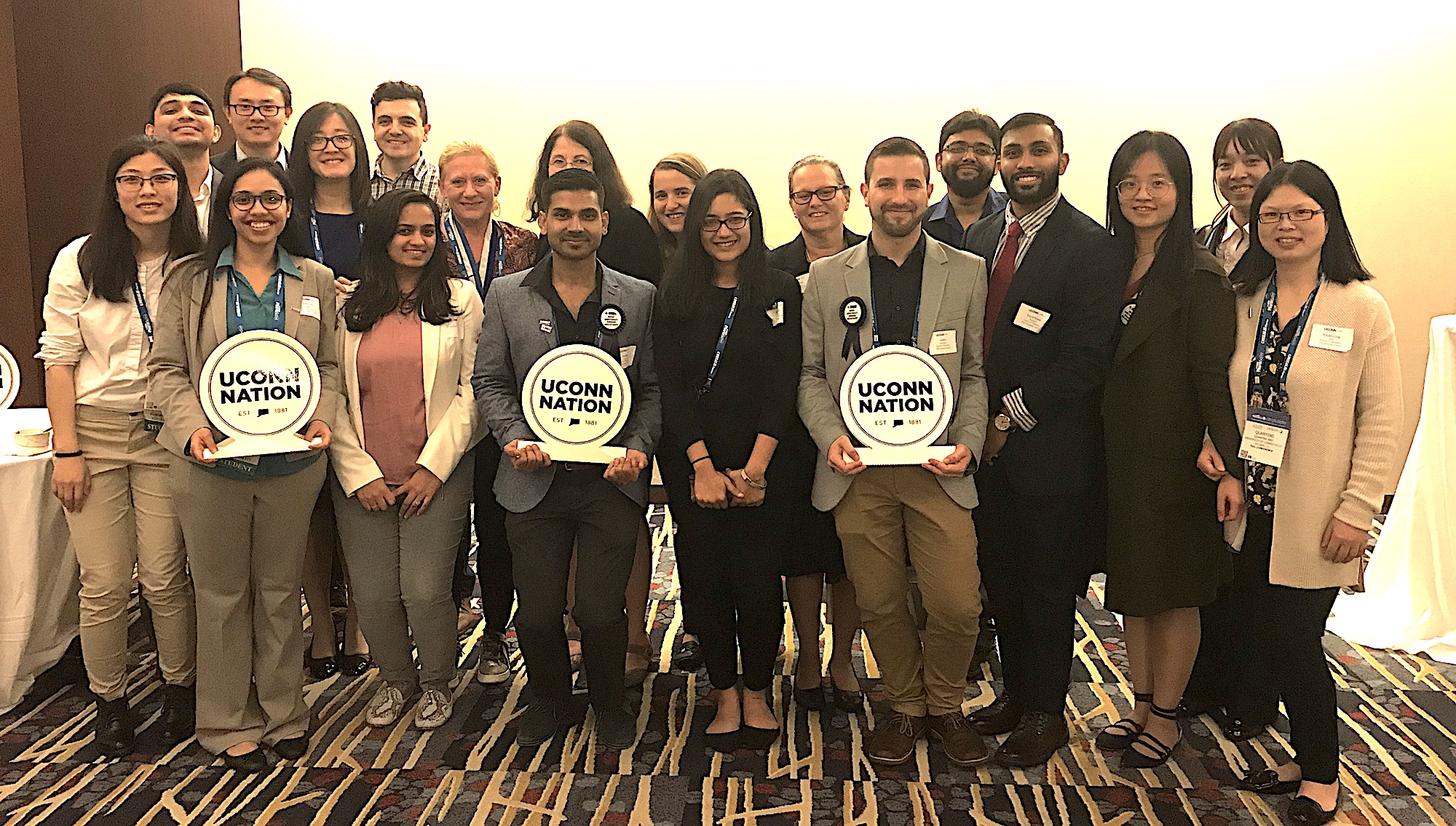 Dear Pharmaceutical Sciences M.A. and Ph.D. Applicant,
Thank you for your interest in our Graduate Programs at the University of Connecticut!
We have three areas of concentration in our program: Pharmaceutics, Pharmacology and Toxicology and Medicinal Chemistry and typically admit 8-10 students per academic year from a competitive pool of applicants. Accepted students are usually offered some form of financial aid. Generally, we do not admit students for the spring semester.
Our department is doing exciting work and is supported by grants from the U.S. FDA, NIH and many different industries. We hope you will join us in our work.
The information below addresses a diverse number of topics pertaining to graduate level applications to our Pharmaceutical Sciences program. Please email Deirdre McAvoy at deirdre.mcavoy@uconn.edu if you have any questions.
José E. Manautou, Ph.D., ATS Fellow
Boehringer-Ingelheim Pharmaceuticals, Inc. Chair in Mechanistic Toxicology
Department Head of Pharmaceutical Sciences and Professor of Toxicology
UConn School of Pharmacy
Deadlines and Application Checklists (Domestic and International)
Test Requirements
The GRE is required for admission to the UConn School of Pharmacy's Ph.D. program. The code for UConn Storrs is 3915 (Department code is not required). We look for at least 50 percentile in each category.
International Students must complete a Test of English Proficiency. If you are not a native speaker of English, you must submit evidence of your proficiency in the English Language. For more information, please visit the Graduate School Website. 
Personal Statement and Letters of Recommendation
Your personal statement should be limited to two pages and should describe your research interests, your reasons for pursuing a graduate degree, and your desire to attend the pharmaceutical sciences program at the University of Connecticut. An additional writing sample/research essay is not required.
Details about your preparation, your strengths and weaknesses as a student, any academic honors, scholarships, or fellowships you have received, will all be helpful.
Request at least 3 letters of recommendation.
*There is no specific Graduate School form for letters of recommendation.
*Recommenders should upload their letters on–line through the Graduate Schools application.
U.S. Student Visa Sponsorship
If you are an international student who requires U.S. Student visa sponsorship by UConn, please be prepared to submit an immigration document request to the International Student and Scholar Services (ISSS) Office. Instructions will be sent to you after you have been admitted by the Graduate School.
Once you have been admitted by the Graduate School, you will be sent a link to request an immigration document where you will be required to upload the materials listed below. Should you have any questions about the required materials, please contact the ISSS Office at UConn  (international@uconn.edu)
You will need:
A) Financial Declaration Form (http://global.uconn.edu/financial-declaration-forms/)
B) Proof of Support
C) Copy of Support
Financial Support and Assistantships
The Department awards financial support in the form of Teaching Assistantships, Research Assistantships and/or fellowships. In order to be considered for admission to our graduate program and be assigned financial aid in the form of a Teaching/Research Assistantship applicants whose native language is not English must show evidence of proficiency in the English language. Certification of English proficiency may be obtained by meeting one of the following requirements:
Speak English as a first language.
B. Submit a valid TOEFL iBT score with a speaking subscore of 27 or higher, or an IELTS speaking band score of 8.0 or higher, a Pearson Test of English Academic (PTE) score of 74 or higher.
C. Pass the Microteaching Test. This test is administered when you arrive on campus only.
You may take the Microteaching test if:
• your TOEFL IBT speaking subscore is between 22 and 26
• Your ITELS score if 7.0 or 7.5 on the speaking band
• Your PTE score is between 62 and 73
If you do not meet any of the minimum requirements above, you could still be admitted with financial aid, but will be required to enroll in a recommended UCAELI English course before you will be allowed to take a Microteaching test.
Please reach out with any additional questions to Deirdre.mcavoy@uconn.edu