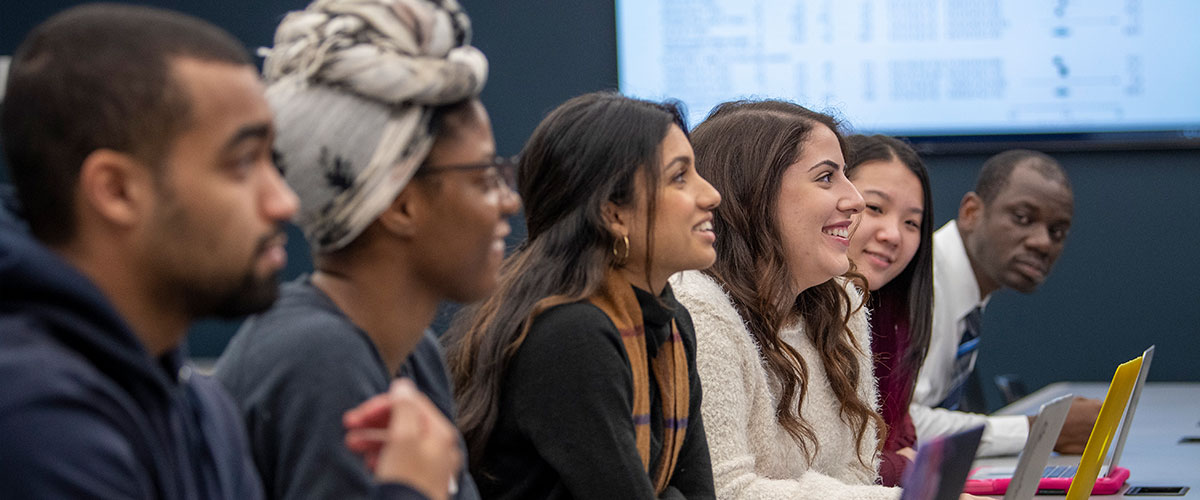 Committed to Inclusion
The UConn School of Pharmacy will be a leader in education, research, and service committed to delivering a transformative academic and professional experience to students, faculty, and staff in a diverse and inclusive environment that is focused on improving the health of all communities.
The School of Pharmacy values diversity and inclusion of students, faculty, and staff. We strive to provide a supportive environment where all members can have a voice and feel represented in the profession regardless of race, ethnicity, gender identity and expression, sexual orientation, religion, ability, class, age, or other identifying characteristic. Our program prepares students to address the unique healthcare needs of diverse, underserved patient populations by establishing a foundation in public health and cultural competency. Through this awareness, the School of Pharmacy further aims to model a commitment towards inclusive healthcare practice.
Initiatives and Opportunities
Diversity Committee
One or more students from each class is selected to serve on this committee composed of students, staff and faculty members with the charge of enhancing diversity in the professional pharmacy program. Previous Diversity Committee initiatives have included volunteering with KUBE (Kids and UConn Bridging Education), coordinating Lunch and Learn talks on topics of diversity and public health, organizing School of Pharmacy diversity awards, and hosting sensitivity training for UConn Metanoia. Interested students should contact advisor Dr. Chinenye Anyanwu at chinenye.anyanwu@uconn.edu.
---
Urban Service Track
The Urban Service Track (UST) is an interprofessional education (IPE) program that unites 6 health profession schools, 4 campuses, 2 universities, and multiple community organizations and clinicians. The main goal of this unique curricular track is to develop a group of health care professionals dedicated to caring for urban, underserved populations and who are committed to interprofessional teamwork. UST Scholars and faculty provide community outreach to 4,000-5,000 of Connecticut's neediest citizens each year. The UST program also places strong emphasis on public health and primary care as a career pathway. The core values of UST are Urban, Underserved, Interprofessionalism, and Primary Care.
Anti-Racism Resources from Concerned Student Pharmacists
Anti-Racism Resources from Education and Industry Colleagues
May 2020
"The tragic death of George Floyd is symbolic of the unfathomable number of black deaths and injustices that have occurred in this country since its earliest beginnings. We see and feel the nation's pain. It is time to stop inequality and racism in all of its forms. We will do our part by amplifying our listening and expanding our education efforts in order to better communicate this critical mission."
Philip Hritcko, Pharm.D., RPh, Dean
Exploring the Impacts of Social Determinants of Health
The Cliff of Good Health – via the Urban Institute