About the Urban Service Track
The Urban Service Track (UST) is an interprofessional education (IPE) program that unites 6 health profession schools, 4 campuses, 2 universities, and multiple community organizations and clinicians. The main goal of this unique curricular track is to develop a group of health care professionals dedicated to caring for urban, underserved populations and who are committed to interprofessional teamwork. UST Scholars and faculty provide community outreach to 4,000-5,000 of Connecticut's neediest citizens each year.
Each year a group of students from the UConn Schools of Dental Medicine, Medicine, Nursing, Pharmacy, and Social Work and the Quinnipiac University Physician Assistant program are selected and admitted into UST.
UST students, designated as Urban Health Scholars, work as a team to help solve the challenges of healthcare in urban areas, including implementing community health education and outreach programs, providing direct patient care in free clinics, promoting health literacy and cultural sensitivity, and participating in quality improvement initiatives and community-based research. Urban Health Scholars also participate in local and national conferences focusing on health policy and advocacy activities affecting underserved populations. The core values of UST are Urban, Underserved, Interprofessionalism, and Primary Care.
All activities within UST are interprofessional, and Urban Health Scholars are mentored by UST core faculty as well as community clinicians representing all six schools. Peer-to-peer mentoring also occurs among students and faculty.
Leadership skills are also developed as all scholars have the opportunity to lead one or more community outreach activities. In this role they lead an interprofessional group of health profession students, preceptors, and community partners.
Curriculum
The Urban Service Track is a two-year "add-on" program that runs concurrently to the main curriculum within the 6 participating schools and provides its Urban Health Scholars with enhanced learning opportunities. The UST curriculum focuses on the following 11 competencies:
Cultural and Linguistic Differences
Interprofessional Teamwork and Leadership
Professional and Ethical Conduct
Community Resources
Multiple Constituencies
Resource Constraints
Population Health
Quality Improvement and Patient Safety
Health Policy
Advocacy
Health Care Financing and Management
Mastery of the competencies is accomplished via community-based outreach and patient care, advocacy, and research activities as well as active participation at quarterly learning retreats.
Learning Retreats
Urban Health Scholars, participate in learning retreats held throughout the academic year at locations throughout Connecticut. At each learning retreat, students work in small interprofessional groups to solve clinical cases as they are introduced to different vulnerable patient populations, enhancing their knowledge and understanding of health care concerns and barriers specific to that population. Populations covered include: urban children and youth, older adults, homeless patients, immigrants and refugees, veterans, the LGBTQ+ community, PWUD, and vulnerable caregivers. Additionally, a different clinical skill is emphasized at each learning retreat.
Community Outreach
A major component of the curriculum focuses on student-engaged community outreach to a wide array of vulnerable populations. In between learning retreats, Urban Health Scholars apply the information learned to design, implement, or assist with a wide variety of health-related field activities. All field activities are community-based and are focused on:
· clinical care (e.g., hypertension and oral cancer screenings at health fairs, direct patient care at free clinics)
· education (e.g., immunization awareness, nutrition education to seniors and children, smoking cessation education, community gardens, health careers awareness programs to K-16 students)
· advocacy (e.g., discussions with state legislators)
UST's community outreach programs connect the 2 universities and 6 schools with a number of community partners in these endeavors, bringing much-needed services to Connecticut's urban areas and vulnerable populations. UST Scholars and faculty provide community outreach to 4,000-5,000 of Connecticut's neediest citizens each year.
Second year Urban Health Scholars are expected to lead at least one community outreach project and participate in the Student Leadership Cabinet meetings. All community outreach field activities are led by one or more second-year Scholars. The Student Leadership Cabinet meetings are designed to discuss how to successfully organize and lead teams of students from multiple professions with different educational backgrounds and therapeutic skill levels, coordinate the efforts of faculty and community clinicians precepting each outreach session, and communicate with community partner organizations and team co-leads. Student Leadership Cabinet members also act as a liaison between the UST student body and the faculty, providing input and feedback about the overall UST curriculum.
Pharmacy-Specific UST Curriculum
In addition to completing the main UST curriculum and the Pharm.D. curriculum, pharmacy Urban Health Scholars complete the pharmacy-specific UST curriculum. This curriculum consists of additional group meetings, design and implementation of pharmacy-led community outreach projects, and APPE requirements. The goals of the pharmacy UST curriculum are:
To enable pharmacy students to understand the roles and contributions of pharmacists in primary care and with underserved patients
To develop skills in drug therapy management and direct patient care as they apply to real-world practicalities when caring for underserved patients in outpatient settings,
To develop effective communication and teamwork skills that enable effective collaboration with members of other healthcare professions.
UST activities clearly map to such Center for the Advancement of Pharmacy Education (CAPE) Educational Outcomes as patient and population-centered care, interprofessional collaboration, promotion of health and wellness, patient advocacy, cultural sensitivity, problem-solving, and leadership. Pharmacy Urban Health Scholars are expected to exhibit the "four P's" of Pharmacy UST: Patient-centered, Professional, Proactive, and Personable.
Community Outreach
The following are examples of the many community outreach projects that Urban Service Track leads throughout the year. Other outreach projects are available, and more are added to the running list each year. (The asterisks denote community outreach projects that occur multiple times throughout the year.)
*Affording Medications: Helping community with strategies to afford medications and educating them about Husky and Medicare.
*Asthma Camp: A camp for children ages 6-12 years living with this chronic disease. Urban Health Scholars help elementary school students explore and learn about asthma in a fun and exciting way. The children learn about asthma triggers, medication education and coping skills. Parents/guardians attend a Q & A led by a healthcare professional about the treatment of asthma.
*Big Brothers Big Sisters: Working with the Big Brother Big Sisters program at UConn to teach children from underserved populations about health careers.
*Biomedical Engineering Discovery Program: A Saturday immersion program for high school students about the biomedical engineering field as it applies to healthcare. Urban Health Scholars work directly with students to accomplish their hands-on activity, which may involve building a hydraulic arm or designing and building a prosthetic leg.
*Brushing Bunnies: Teaches children about the importance of oral hygiene through story-telling and sharing information about what to expect when seeing a dental provider. Brushing Bunnies is offered to childcare centers/programs and elementary schools enrolling underserved children.
CT Mission of Mercy: Sponsored by the CT Dental Association, Urban Health Scholars and faculty support the pharmacy and medical triage areas, serve as medical interpreters, patient escorts, and patient educators, and have the opportunity to observe in the dental clinic. Over 2,000 patients and nearly a million dollars' worth of free dental care are provided over the course of one weekend.
Connecticut Children's Medical Center HIV Peds/Family Holiday Social: Join children and families living with HIV/AIDS for the annual holiday social by coordinating arts and crafts activities.
*Community Garden Initiative: Promoting community gardening, better nutrition, and health promotion activities for Hartford's residents, UST Scholars work with community agencies and the public to plant, maintain and nurture multiple community gardening beds. Activities begin in the spring and culminate early fall.
*Community Health Fairs: Providing health screenings and education to underserved communities throughout Connecticut. The following are a few examples:
Neighbor Housing Services of New Britain Health Fair (mid/late June)
Greater Hartford NAACP Family Day (mid/late August)
Simpson Waverly Health Fair (mid/late September-early October)
Bloomfield-West Hartford Health Department Initiative (throughout the year)
Go Red Women's Heart Health – collaborating with the American Heart Association, this event is typically held in March.
Urban Health Scholars provide pre-luncheon wellness screenings and education.
Sickle Cell Walk-a-thon and Health Expo – (early/mid October)
*From Wheeze to Breeze: Community education around understanding asthma and COPD self-management including triggers and medications.
*Going Beyond Initiative: Reaching out to populations not typically seen at other UST outreach events to provide health education and screenings on a wide variety of topics.
*Health Careers Awareness: UST Scholars work with students K-16 through a variety of programs to expose disadvantaged children and teens to opportunities in health careers. Programs include Middle School & High School Clinical Skills, Take Your Child to Work Day, College Health Service Corps Symposium, Louis Stokes Alliance Minority Participation, Rowes Scholars, UConn Public Health and Service Living/Learning Community, etc.
*Healthy Hartford Campaign: Health promotion activities provided to residents of the greater Hartford area. Activities include basic screenings and risk assessments as well as health education and health promotion. HHC patient focus: families, men, women, the elderly and City of Hartford employees.
*Hispanic Senior Center: Utilizing Spanish language skills, UST Scholars provide special health promotion and fun activities with older adults at the Hispanic Senior Center of Hartford. Activities run the gamut from holiday treats for those with diabetes, to oral health and medication education, to bingo!
*Husky Sports: Working directly Hartford elementary school students participating in UConn's Husky Sport Program, Scholars bring health careers and science alive by providing after-school enrichment programming. This unique program supports an evening health promotion education program for parents/guardians.
*Immunization Education: Promoting awareness of the importance of vaccination in adults as well as dispelling misconceptions of various vaccines.
*Migrant Farm Worker Clinic: Making healthcare accessible to the 17,000 to 20,000 migratory workers residing in Connecticut by establishing mobile clinics at their worksites (farms). The MFW Clinic operates from late June through late September.
National Primary Care Week: UST has 8 community sites each year. Community screenings encompassing hypertension, diabetes, nutrition, smoking cessation, and other health promotion education, oral health awareness education, and an Ask the Pharmacist opportunity.
*No Ifs, Ands, or Butts: Focuses on smoking cessation education to adults at community health events and smoking and vaping prevention education to children and teens.
*Nutrition Detectives: Urban Health Scholars teach 2nd and 3rd graders about making better food choices in a fun and engaging way at elementary schools enrolling urban children. Utilizing "detective" hats, sunglasses and magnifying glasses, children "investigate" the nutrition contents of various foods.
*Pathways/Senderos Teen Pregnancy Prevention Program: Working with the Greater New Britain Teen Pregnancy Prevention Center (motto: Diplomas Before Diapers) staff to deliver after school programming for 6th-12th graders. Topic include: nutrition for healthy teens, oral health tips, health careers awareness, poison control/awareness for babysitters, smoking prevention, etc. There is also a similar program for the city of Waterbury.
*Smiling Seniors: Oral health education provided to older adults that is fun and engaging. Utilizing interprofessional teams of UST Scholars, the Smiling Seniors program teaches participants proper hygiene techniques as well as the role played by medications, nutrition, adaptive appliances, and chronic diseases in oral healthcare.
*Spring Forward – Don't Fall Back: Engaging older adults in fall prevention educational activities that are fun and relevant for seniors.
*Tar Wars: Focuses on tobacco-free education and messaging for elementary school children. Tar Wars is a program of the American Academy of Family Physicians. This is a "plug-in" program facilitated in the classroom by Urban Health Scholars.
*Tick-Borne Illness Prevention – Aware and Prepared: Focuses on raising awareness about tick borne infections and providing education on steps that can be taken to prevent exposure.
Advocacy and Professional Development
Advocacy
Urban Health Scholars have the unique opportunity to attend the National Association of Community Health Centers' (NACHC) Policy and Issues Forum held in Washington DC. Each year the UST program takes a group of Urban Health Scholars to the NACHC March conference.
The NACHC March conference is a large multi-day conference that has more than 2,100 clinicians, policy makers, board members, and educators in attendance. As part of this conference, Urban Health Scholars are incorporated into teams pre-arranged by the Community Health Center Association of Connecticut to visit state Congressmen on Capitol Hill. This conference is a unique opportunity for Urban Health Scholars to learn about national healthcare topics related to caring for vulnerable populations, advocacy, and primary care. Urban Health Scholars have traditionally been the only group of students nationally who are invited to meet with the NACHC leadership during the conference.
Professional Development
Urban Health Scholars have the opportunity to share their research and community-based projects at annual meetings in many different venues. Some of these meetings have included the CT Public Health Association's Annual Meeting, ASHP's Midyear Clinical Meeting, and the National Academies of Practice's Annual Forum.
Edit
Student Testimonials
"The growth that UST makes on a yearly basis is phenomenal…I feel blessed that I am a part of such a futuristic program and I am happy to call UST my family."
"The events this program provides are great in many aspects. One of the aspects is that this program demonstrates the importance of working with other health care professions. Another aspect is that it reminds us constantly that there are people who need our help out there."
"Urban Service Track is an excellent complement to my didactic year curriculum and I highly recommend it for anyone committed to working in Primary Care."
"Since UST allows me to actually see how people are struggling and what they are looking for from a healthcare system, my passion to learn and become knowledgeable about healthcare has greatly increased."
"I've always been passionate about universal health care and helping those in need, but was never able to act upon this. It wasn't until I was able to learn about the different vulnerable populations and actually provide them with health care and education that I learned what it means to care for the underserved and why it's so important."
"I can genuinely say that I have a strong interest in becoming an ambulatory care pharmacist and working in an underserved area. Regarding interprofessionalism, I liked how UST provided the opportunity for pharmacy students to learn and work with other health professions, but it also allowed us to advocate for the importance of the pharmacy profession."
"UST offers students the opportunity to effect meaningful change through leadership, creativity, and innovation."
"Urban Service Track has provided an unmatched experience to learn more about clinical medicine from the perspective of different health professions. Being educated about the role that physicians, nurses, pharmacists, dentists and social workers have in healthcare and how I [a future physician assistant] will work with them as a team in the future is invaluable."
"I can genuinely say that I have a strong interest in becoming an ambulatory care pharmacist and working in an underserved area. Regarding interprofessionalism, I liked how UST provided the opportunity for pharmacy students to learn and work with other health professions, but it also allowed us to advocate for the importance of the pharmacy profession."
"UST offers students the opportunity to effect meaningful change through leadership, creativity, and innovation. It has been a rewarding experience to implement a Smoking Cessation Program and to lead interprofessional students. I have thoroughly enjoyed empowering them to raise awareness on pharmacological interventions, behavioral change, and motivational counseling to ultimately show patients that it is never too late to quit smoking."
"Urban Service Track is an excellent complement to my didactic year curriculum and I highly recommend it for anyone committed to working in Primary Care."
UST Program History
UST's unique interprofessional education program has been in existence since 2005. It enrolled its first cohort of students in fall semester 2007, with a pilot year in academic year 2006-2007. It was the first curricular track in the Doctor of Pharmacy program at the University of Connecticut (UConn) School of Pharmacy.
Application Steps
Interested pharmacy students should come to the Urban Service Track Lunch and Learn in the spring semester to hear more about UST, its activities, opportunities, and curricular requirements. Current Urban Health Scholars will be there to share about their experiences with UST and answer any questions that prospective students may have. The application process will be discussed at that time.
Contact
For more information about the Urban
Service Track and the pharmacy curriculum
contact:
Devra Dang, PharmD, BCPS, CDE, FNAP
Associate Clinical Professor
University of Connecticut School of Pharmacy
devra.dang@uconn.edu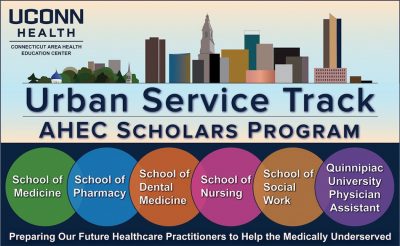 Urban Service Track Scholars Care for the Underserved in Hartford

Care that Encompasses Every Community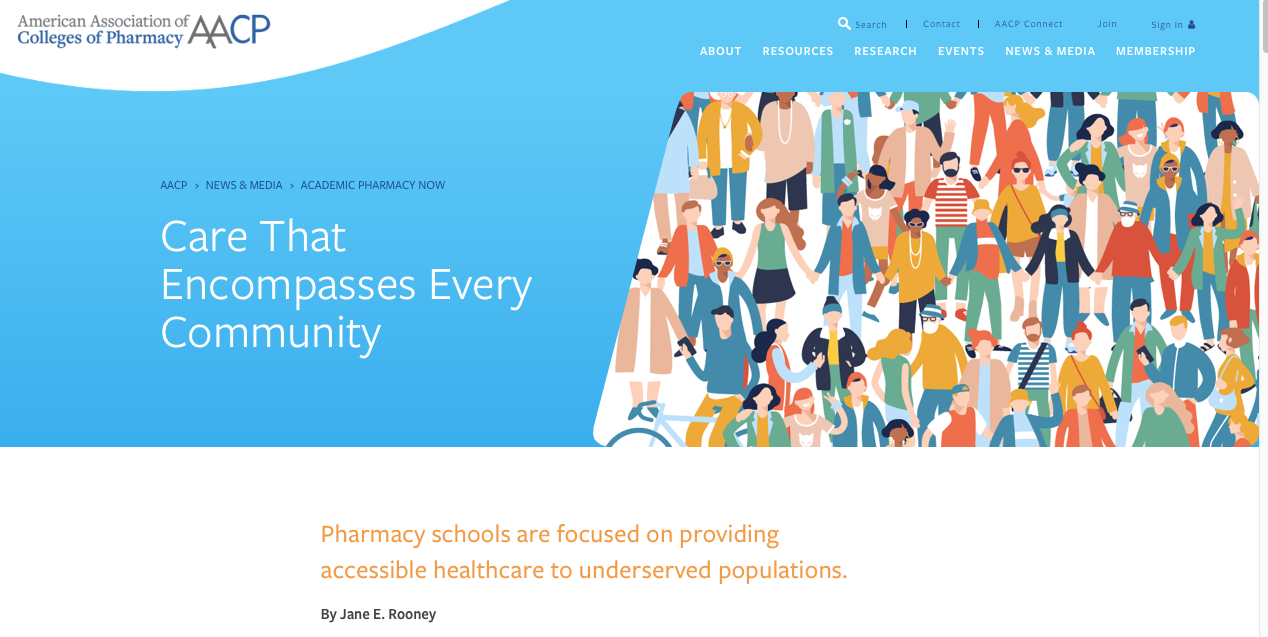 UST – A Tradition of Excellence