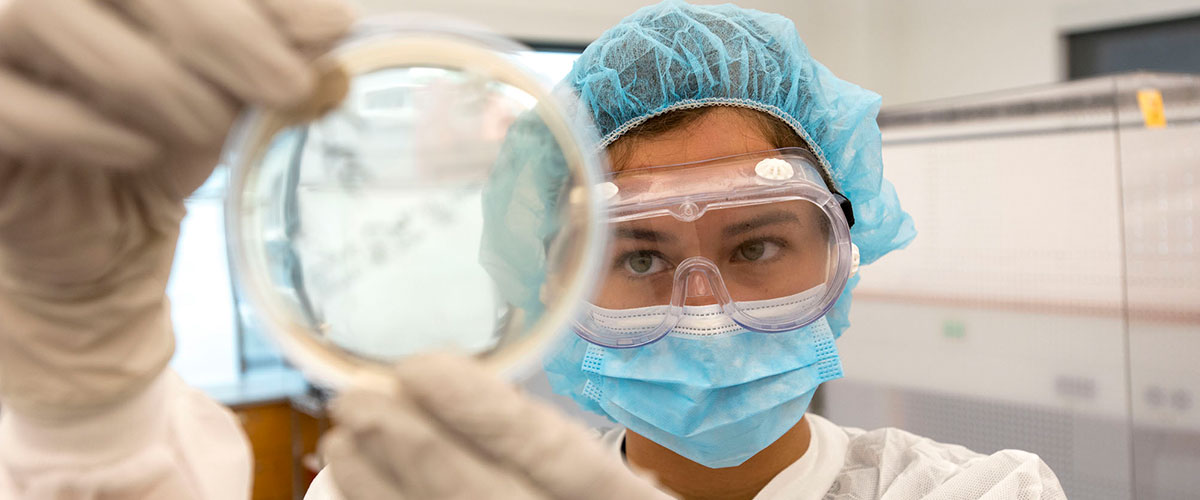 At UConn you will build a solid academic foundation of pre-professional courses under the guidance of your pharmacy advisor. Apply as a Pharmacy Studies major in your first-year at UConn. The four-year pharmacy professional program begins after two undergraduate pre-professional years. Upon completion you will have a Bachelor of Science in Pharmacy Studies and a Doctor of Pharmacy degree.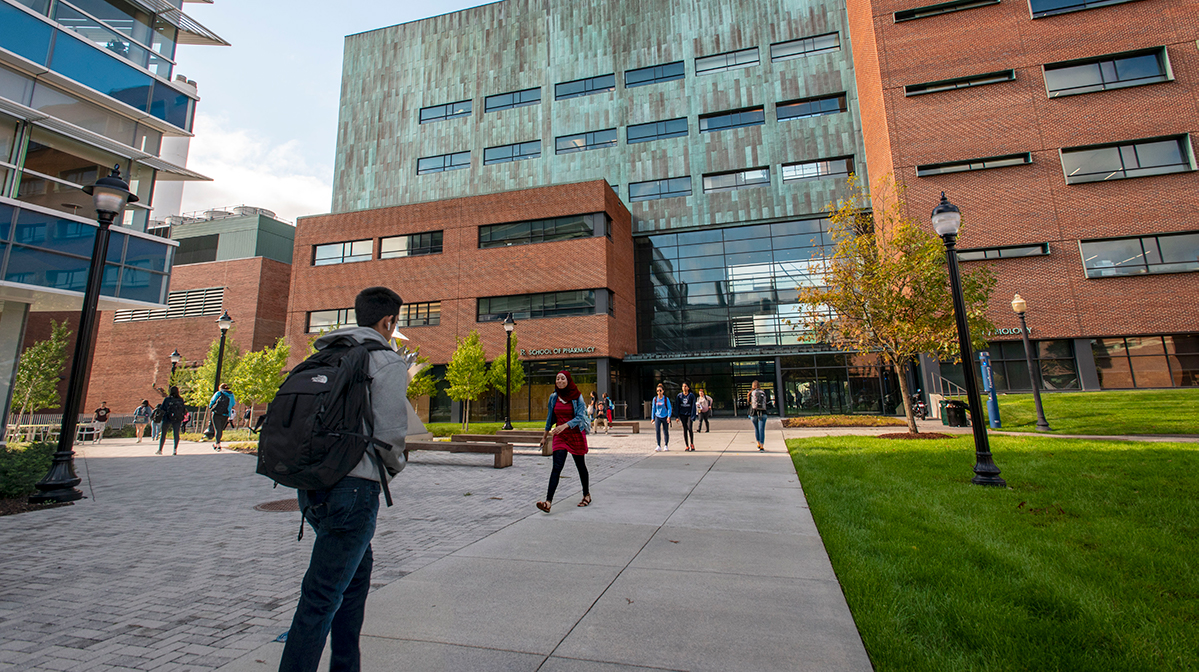 Talk to a Student Ambassador
One of the best ways to learn about our program is to talk to one of our pharmacy student ambassadors. These are students who are in their first or second year of our professional program. You can meet our ambassadors at one of our Open Houses, request to chat via the web or phone, or come in for a tour. You can ask for an ambassador that was a transfer, as example, began with our program as a first-year (freshman) student, lived in the learning community and more!
Our ambassador page lists some good questions to consider asking. Set up a meeting by emailing: pharmacy@uconn.edu.
Living Learning Communities
Living Learning Communities for first-year students are optional but do offer freshmen the opportunity to find common peers upon arriving at UConn. Pharmacy focused students joining the Pharmacy House get access to special pharmacy programs and activities that expand their exposure to pharmacy beyond the classroom.
Why pharmacy and am I a fit?
We recognize and celebrate the wide-range of talents and experiences found within each class of pharmacy students. Although intellect and academic ability are important qualities, so are your non-academic and non-cognitive abilities. For example, your perseverance, your personal insight, your interests and talents, your problem solving skills, your motivation and commitment – these are all qualities that lend themselves to successful professional students, futures leaders in pharmacy, and life-long learners.
High school students that have demonstrated an interest in and aptitude for science and math are excellent fits for the pre-professional program.
Special rates for New England residents
New England Board of Higher Education's Tuition Break is now available to current pre-pharmacy track (including SPiP) and to BS Pharmacy Studies/PharmD students during every year of their journey towards a Pharm.D. degree. The cost savings available to students over the course of the program beginning with pre-professional coursework is significant and helps ease the financial commitment that goes along with earning a professional doctorate degree and becoming a licensed, practicing pharmacist. We are fortunate to be able to offer this program to our neighbors in Massachusetts, New Hampshire, Maine, and Vermont.
Careers in Pharmacy
In an ever-evolving health care landscape, pharmacy careers span all areas of public and private healthcare and medical research, developing to meet the changing needs of patients here in the U.S. and abroad. Not only are pharmacists consistently ranked as among the most trusted health professionals, but the career offers long term job security and high earnings. According to the Bureau of Labor Statistics, health-care is the fastest growing sector in the U.S. Starting salaries for pharmacy related professions range between $75,000 and $110,000 annually.
Career opportunities in pharmacy are available in such varied areas as:
Community Practice including independent, chain and veterinary pharmacy
Pharmaceutical research and drug development
Hospital or nuclear pharmacy
Academic pharmacy
Long-term, hospice and home heath consulting
Government/federal and state
Managed care and pharmacy benefit management
Mail service pharmacy
Publishing including medical, scientific and trade journal reporting
Poison control
Medical Marijuana
Pharmacists can also specialize within these categories focusing on pharmacy for pain, diabetic, cancer, geriatric, and pediatric patients as examples.
How to begin?
Freshmen can begin in the field of pharmacy by pursuing a B.S. in Pharmacy Studies major degree and beginning required coursework. You can also compete early coursework at another institution and then transfer in. Students beginning in alternative majors such as Biology or Chemistry are eligible to transfer to the B.S. in Pharmacy Studies major if required course work has been fulfilled. There is course overlap with other science focused majors.
Students apply to the School of Pharmacy in second semester of sophomore year
If you think that you might be interested in a career in pharmacy, the following suggestions may be helpful:
• Meet with a high school guidance counselor to ensure that all proper courses are being taken, and to assist with the college search process.
• Take beneficial classes in high school such as:
• upper-level science courses (i.e. chemistry, biology, physics, etc.) as well as pre-calculus and/or calculus
• three years of a single foreign language
• any classes that emphasize communication skills, both written and oral
• AP and college cooperative classes taken in high school that fulfill UConn general education requirements
[Must earn a 4 or 5 in AP courses.]
• Get involved outside of the classroom to develop leadership and time-management skills
• try to gain pharmacy-related experience
• have a part-time job
• participate in extracurricular activities such as athletics, organizations, and clubs
Honors
All applicants are considered for the honors level program. The program nurtures a diverse group of motivated students through academic flexibility and enrichment opportunities during their undergraduate and professional studies. UConn Pharmacy's Honors Program provides access to early pharmacy enrichment courses, faculty projects and honors housing at the University.
While working on selected pre-professional tracks or undergraduate programs, honors students will be linked to the School of Pharmacy through special seminars, research opportunities, and health-profession events, all aimed at supporting the achievement of curricular and career goals. This unique program of mentoring will further enrich the undergraduate experience by providing educational opportunities which will strengthen the student's preparation for professional school.
Applicants who provide evidence of strength in a demanding high school curriculum, including advanced preparation in mathematics and laboratory sciences as well as other disciplines are considered for the honors program. There are no state residency requirements. The University is committed to attracting candidates from populations under-represented in pharmacy.
Selection factors
Students who began at UConn as B.S. Pharmacy Studies students; transfers from other Schools at UConn; transfers from other Universities can all apply to the School of Pharmacy's professional program.
When reviewing applications for entry into our professional program, our admissions committee looks, in general, for students who have the following:
Completed all pre-requisite college coursework
Preferred GPA of 3.0 or higher in college
Strong aptitude in math and science
Demonstrated good citizenship (community service or involvement of all kinds)
An interest in and general knowledge of the pharmacy profession
A professional demeanor
All applicants invited to interview must complete the interview for final consideration.
Recommended supports for success:
Repeat at UConn AP and college level pre-requisite math and science coursework earned while in high school (unless earned through one of UConn's ECE classes).*
Join the Pharmacy House Living Learning Community
Join a pharmacy club at UConn
Access academic support early as needed
* Repeating AP courses has been proven to help insure a strong base before entering our professional program.
Additional factors considered include a completed application and special questions to the University with all supporting documents by December 15.
Pre-Professional Curriculum (pre-requisites for Pharm.D. program entry)
UConn pre-professional (pre-pharmacy) students typically complete three semesters of prerequisite course work prior to applying to the School of Pharmacy, however, the time in which it takes to complete the pre-professional phase is flexible. The prerequisites for the Doctor of Pharmacy (Pharm.D.) Professional Program also fulfill requirements for additional schools and programs at UConn, as well as meeting the University General Education Requirements that are necessary for earning a bachelor's degree.  Please note that fulfillment of the prerequisite course work does not guarantee admission into the School of Pharmacy.  Refer to the Undergraduate/Pharm.D. Admissions page for details regarding the application and admissions process.
The following is a proposed schedule for required pre-professional courses.
First Pre-Professional Year – Fall Semester
| | | |
| --- | --- | --- |
| Course Number | Credits | Course Name |
| BIOL 1107 | 4 | Principles of Biology |
| CHEM 1127Q | 4 | General Chemistry |
| MATH 1131Q | 4 | Calculus |
| ECON 12011 | 3 | Principles of Microeconomics |
First Pre-Professional Year – Spring Semester
| | | |
| --- | --- | --- |
| Course Number | Credits | Course Name |
| ENGL 1007, 1010, or 1011 | 4 | Academic Writing |
| CHEM 1128Q | 4 | General Chemistry II |
| PHYS 1201Q | 4 | General Physics |
| Arts & Humanities1 | 3 | General Education Requirement |
| Diversity Course1 | 3 | General Education Requirement |
Second Pre-Professional Year – Fall Semester
| | | |
| --- | --- | --- |
| Course Number | Credits | Course Name |
| SOCI 10011,3 | 3 | Introduction to Sociology |
| PNB 2264 or 2274 | 4 | Human Physiology & Anatomy |
| CHEM 2443 | 3 | Organic Chemistry |
| MCB 2610 | 4 | Fundamentals of Microbiology |
| Diversity Course1 | 3 | General Education Requirement |
Second Pre-Professional Year – Spring Semester
| | | |
| --- | --- | --- |
| Course Number | Credits | Course Name |
| MCB 2000 or MCB 3010 | 4 or 5 | Introduction to Biochemistry / Biochemistry |
| PNB 2265 or 2275 | 4 | Human Physiology & Anatomy II |
| CHEM 2444 | 3 | Organic Chemistry II |
| W Course1,2 | 3 | General Education Requirement |
| Arts & Humanities1 | 3 | General Education Requirement |
These courses need not be taken in the semester indicated. The high-lighted math and science prerequisite courses must be completed by the end of the spring semester of the year seeking enrollment.
It is possible for the W requirement to be fulfilled by courses in content areas 1, 2, or 4.
May be filled by any 1000-level sociology, psychology or anthropology course from content area 2.
Environmental Literacy requirement: Beginning fall 2019, students must complete a 3-credit Environmental Literacy (E) course as part of the general education curriculum. Students in the School of Pharmacy may elect to fulfill this requirement during the pre-professional program or after admission to the professional program. The E requirement must be completed prior to the end of P2 and conferral of the B.S. in Pharmacy Studies.
Substitutions
CHEM 1124Q, 1125Q, and 1126Q will be averaged and substituted for CHEM 1127Q and 1128Q.
The same applies for other approved substitutions.
Physics
Physics 1401Q, 1501Q, etc., may be substituted for Physics 1201Q. Taking another physics course, however, (e.g. PHYS 1401Q, 1501Q, etc.) in addition to PHYS 1201Q may be considered repetition of a prerequisite.
AP Work
When AP work is applied toward prerequisites, the number of total prerequisite credits is reduced by the number of credits earned by that AP work.
Rounding for GPA
The School of Pharmacy does not round when calculating grade point averages.  For example, a 2.999 will not be rounded to a 3.000.